What is the most beautiful website worth if it can't be found on the major search engines?
The ultimate goal of most websites is to achieve good search engine ranking in order to acquire leads for new clients/customers and tap into a new or bigger market online.  Many companies offer search engine optimization but often only focusing on ad campaigns (pay per click campaigns like Google Adwords). While this can be a great way of driving traffic and generating leads, it requires a marketing budget. Our goal at MediaFocus is to optimize every website to achieve high organic search engine ranking.
We want your website to rank well organically!
Achieving good organic search engine placement is influenced by many factors and utilizing all or at least most of the SEO Tools & Techniques listed below, will greatly impact the organic ranking of your website. The success of our clients is proof!
SEO automatically included in our web design services:
META Tag Optimization
TITLE Tag Optimization
Headline (H1 – H6) & Content Optimization
Linking Optimization
Image Optimization
ALT Tag Optimization
Keyword Density
Optimized Flow
Additional SEO Services available through
MediaFocus & Trusted Experts:
Developing a Branding Blueprint
Developing an Effective Linking Strategy
(inbound, outbound, reciprocal links)
Social Media Marketing
(FB, Instagram, Twitter, LinkedIn, etc.)
Optimizing Google Business, Yahoo Local, and Bing Local listings
Listings in Business Directories
Video Development & YouTube Channel
PR Campaigns
Email Marketing Campaigns
Lead Generation
MediaFocus has 25+ years experience and knowledge in developing and maintaining websites that are optimized for organic search engine ranking.
In addition we offer sound advice and support to all Clients who are interested in implementing any of the additional SEO tools and techniques we recommend.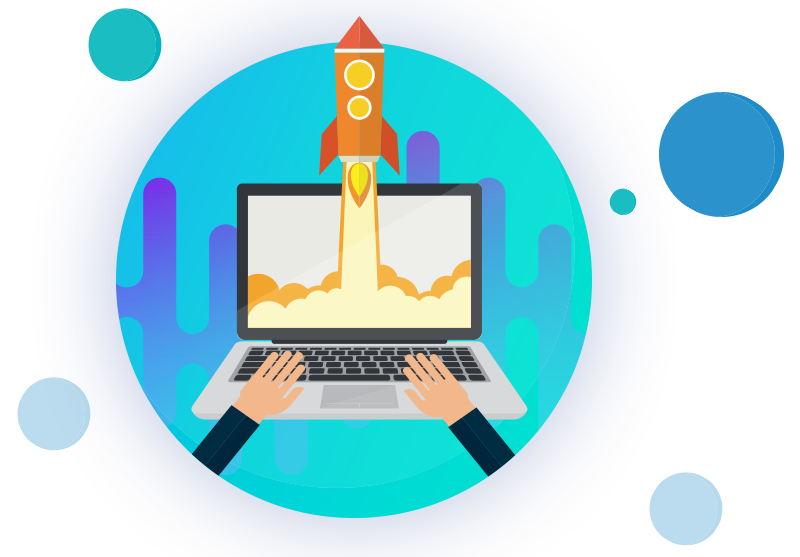 We make it happen.
Experts in Boosting Organic SEO
When performing a search on Google, the first listings presented at the top are paid ads (usually 3-4), followed by three map listings (Google My Business listings), followed by "organically" ranked websites. Search engines employ complex algorithms to "rank" websites in terms of "relevance" to the search terms. So achieving high organic ranking is of great benefit in terms of receiving leads from Google searches.
Here is our latest example: One of our clients just opened a new memory care community in Clearwater. When searching on Google for "memory care Clearwater", their website is ranked #3 organically on page 1, just behind two directory websites. It is quite difficult to rank higher than websites that are directory services, as those receive high amounts of traffic. This is an amazing ranking position we've been able to achieve,  not just on Google but also on Bing and Yahoo! Plus, they are listed #2 for Google maps listings — so two prominent listings on the first page of Google.
This is just our latest success. Many of our clients are ranked high on Google and other major search engines.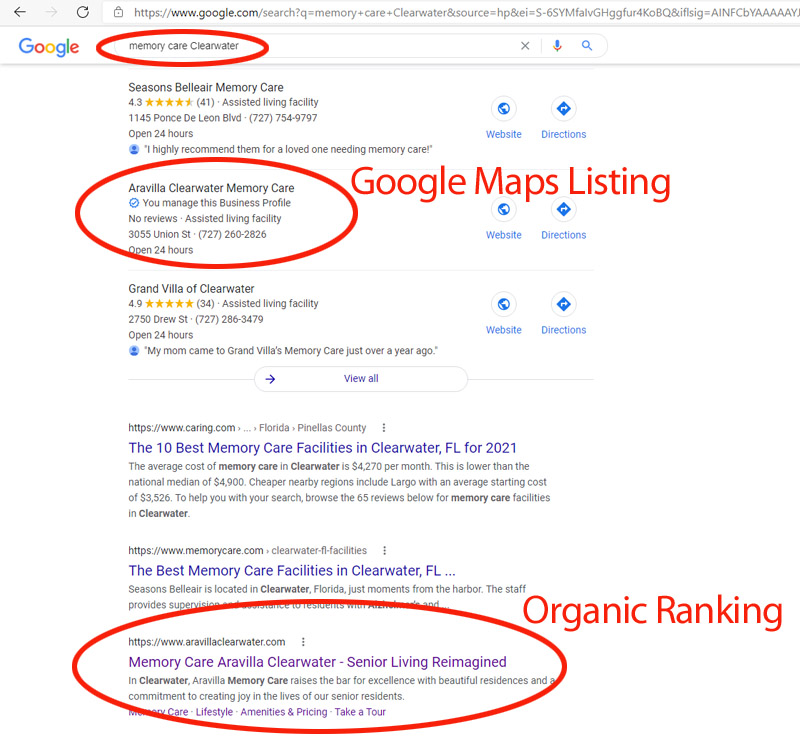 Our expertise in this area can be of great value! Get in touch.
CONTACT US


FOR A FREE CONSULTATION

.