Experts in Boosting Organic SEO
With 23+ Years of experience in SEO, we know how to employ all the building blocks to boost organic search engine ranking. "Organic" ranking is website ranking that IS NOT achieved through paid for advertising.
When performing a search on Google, the first listings presented at the top are paid ads (usually 3-4), followed by three map listings (Google My Business listings), followed by "organically" ranked websites. Search engines employ complex algorithms to "rank" websites in terms of "relevance" to the search terms. So achieving high organic ranking can save a lot on advertising costs. If your business organically appears on Google's page #1 then you may be able to scale back on your advertising budget or not have one at all and still receive leads from Google searches.
Here is our latest example: One of our clients just opened a new memory care community in Clearwater. When searching on Google for "memory care Clearwater", their website is ranked #3 organically on page 1, just behind two directory websites. It is quite difficult to rank higher than websites that are directory services, as those receive high amounts of traffic. This is an amazing ranking position we've been able to achieve,  not just on Google but also on Bing and Yahoo! Plus, they are listed #2 for Google maps listings — so two prominent listings on the first page of Google.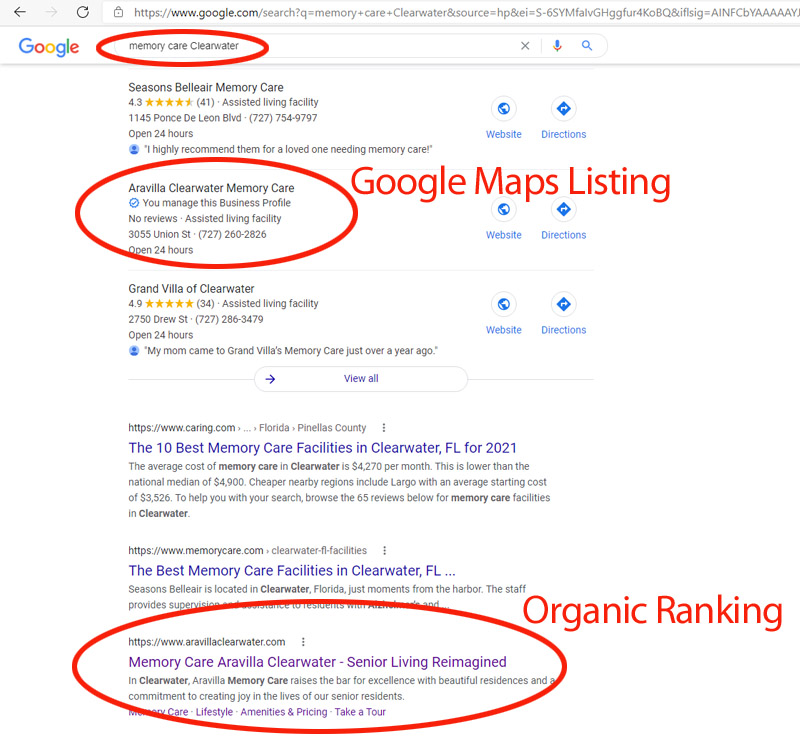 Our expertise in this area can be of great value! Get in touch.
CONTACT US


FOR A FREE CONSULTATION

.